Oncology Working Group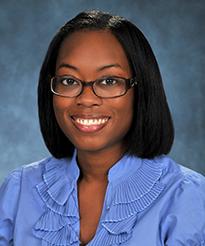 ---
Dr. Ginah Nightingale, PharmD, BCOP, is Advanced Practice Pharmacist in Medical Oncology at Thomas Jefferson University Hospital in Philadelphia, PA. Her areas of oncology expertise include solid tumors (sarcomas, carcinomas) and medication-related issues such as polypharmacy, inappropriate medication use, and adverse drug events, particularly in senor adults living with cancer. Her clinical duties include providing medication therapy management services, medication adherence counseling, and medication education to her patients. She has served on several committees at the hospital, including the oncology subcommittee of the P&T committee, where her responsibilities included discussing formulary modifications, developing clinical practice guidelines/protocols, assisting with the management of drug shortages, and evaluating patient safety/medication safety issues. Dr. Nightingale is board certified in Oncology Pharmacy (BCOP).
Dr. Nightingale is also Assistant Professor in the Department of Pharmacy Practice at the Jefferson College of Pharmacy at Thomas Jefferson University in Philadelphia, where she teaches on medication safety and medication errors, clinical diagnosis/pharmacotherapy, pharmacology, inpatient care, anemia, and biostatistics, among other topics. She also precepts multi-level student pharmacists and pharmacy residents on experiential rotations. Dr. Nightingale currently serves as the Chair of the Educational Philosophy and Policy (Curriculum) Committee at JCP. She is also a Senior Adult Oncology committee protocol reviewer at Thomas Jefferson, where she also serves as a faculty research mentor to students.
Dr. Nightingale has authored several peer-reviewed research and review articles on oncology practice in the
Journal of Clinical Oncology, Journal of Geriatric Oncology, Journal of Hematology Oncology Pharmacy, Annals of Pharmacotherapy, Pharmacy and Therapeutics
, and
Pharmacotherapy
. She has delivered podium and poster presentations at meetings of the International Society of Geriatric Oncology (SIOG), the American Society of Health System Pharmacists (ASHP), the Association of Colleges of Pharmacy (AACP), and the Hematology/Oncology Pharmacy Association (HOPA), as well as at regional and local pharmacy/oncology conferences.
Dr. Nightingale received her doctorate in pharmacy from the Ernest Mario School of Pharmacy at Rutgers University. She completed a PGY-1 Pharmacy Practice Residency at Temple University Health System, Philadelphia, PA, and a PGY-2 Oncology Pharmacy Practice Residency at University of Maryland School of Pharmacy, Baltimore, MD. She also earned a Graduate Certificate in Research and Clinical Trials from the Thomas Jefferson University Graduate School of Biomedical Sciences. Her research awards include an SIOG 2014 Nursing & Allied Health Research Award, an ASHP 2014 New Investigator Grant, and an AACP 2013 New Investigator Grant. She also received the 2016 HOPA Oncology Pharmacy Practice Literature Award for her article on a pharmacist-led medication assessment initiative to identify potentially inappropriate medication use among ambulatory senior adults with cancer.
Dr. Nightingale currently serves as a reviewer for several journals, including the
Journal of Geriatric Oncology, Journal of Oncology Pharmacy Practice, Pharmacotherapy
, and
Annals of Pharmacotherapy
, among others. She is a member of the Cancer and Aging Research Group (CARG), SIOG, HOPA, ASHP, AACP, and BPS, all of for which she has served on committees and advisory groups.